North of Washington on Hennepin: Purgatory Under Construction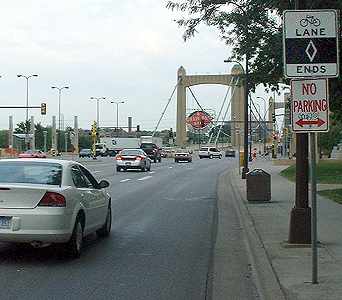 I've been biking through uptown and downtown this week due to my new job in Northeast. Once you reach Washington Avenue heading north on Hennepin you run out of bike lane. Luckily the traffic is a lot less past Washington, so you can maneuver to the right lane. If you're really curious there are plenty of details available.
So this past week was the first I've had to deal with this firsthand. I've grown more accustomed to figuring out biking situations, and I decided to just figure this out. Well after Washington, Hennepin just became really bumpy and uncomfortable at first. Then as the days went on… or even a single day went on, it became smoother. Yesterday, it was nice smooth blacktop, and going home yesterday it was clearly labeled. Ah… this area of limbo is under construction. Looks like they are maintaining the crazy bike lane that runs out heading north. So I'll continue to awkwardly cross a few lanes of traffic before I get to the Hennepin Avenue Bridge.
I'm really enjoying the ride into Northeast. I really get to see a lot of the city that I like: Loring Park, Downtown and St. Anthony.