Lesbians on Fire!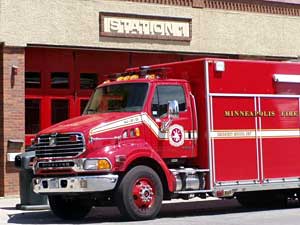 Okay, that was probably a bit sensationalistic, but this story already reads like a pulp fiction novel.
While listening to MPR this morning, I heard about how Minneapolis Fire Chief Bonnie Bleskachek is being sued by three female firefighters for harassment and sexual discrimination.
The story at first glance seems to be pretty straightforward: "The three women all allege that Bleskachek unfairly denied them opportunities to advance within the department. And they claim the chief based her decisions on her personal feelings toward the women, not on their job performance. Bleskachek's lawyer says those claims are false."
Okay, but then it gets complicated when we start to hear the details of the web of relationships which were involved. It reads like a soap opera. You have to respect the reporter for trying to keep it all sorted out for their readers.

Here's what the author says to try to distill the situation down to its essentials:
The complaints filed by Jennifer Cornell and Kathleen Mullen present a web of interpersonal relationships. Cornell is Bonnie Bleskachek's former partner, and co-parent of the chief's two children. The two underwent a volatile breakup and a child custody skirmish.

Kathleen Mullen says she's a former longtime friend of Bleskachek, who once dated the chief's current girlfriend, Mary Maresca — who is also a firefighter. Mullen claims she ended her friendship with Bleskachek after she told the chief she couldn't support her relationship with Maresca.

The third plaintiff, Kristina Lemon, didn't have a relationship with Bleskachek. However, she claims that she was the target of Bleskachek's romantic advances. Lemon says she resisted, and later became the target of retaliation by Bleskachek.
Right now, I'm only seeing this covered on MPR. The Strib and PiPress don't have anything on it. I wonder if Blimp 9 News will pick it up for it's "OMG LESBIANS!" angle?
I also wonder if all of this could have been avoided if those involved had avoided dating coworkers. I myself have been tempted to fish off the company pier, but I didn't want to deal with the ensuing complications.