My Bike Was Stolen =(
This past weekend (July 13-16) I was out of town. Friday morning before my wife went to work she noticed a bike left in our yard. Odd, but nothing too surprising. She didn't go into our garage all weekend. Today, as I was going to make my run to the bank, I opened our garage and could not find my bike. I remember specifically placing it toward the front of the garage, since I knew I was going to be gone all weekend. Checked the side door, and sure enough it looked like someone had gone in through our side door. It must not have locked or something.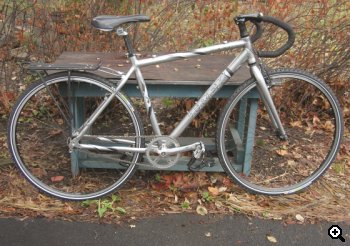 This isn't my bike, but it looks just like it.
Here's an actual picture of my bike, more amusing picture
So now I'm without my beloved Trek 7300FX. It was my first bike that I bought, and it cost a lot. If anybody notices it, let me know, unfortunately it's a mass produced bike so there's others with it. But if you notice something around Calhoun Area, just let me know. Hopefully I can be on a new road bike by August. I'm really-really-really bummed.